The inside story
Designed for comfort, our modern and spacious 160-boat fleet provides accommodation to suit every need.
From cosy two-berths, spacious four-berths to suit a small family, six-berths for extra family room and eight, nine, 10 or 12 berths for bigger parties.
For that extra touch of luxury, our recently added Admiral Class is ideal. Take a look at our boat layouts to help you select the right boat for you.
What to expect
All boats have full-sized gas oven, fridge, TV, DVD player, radiator central heating and a surprising amount of storage. Kitchens are fully equipped with all you're likely to need for self-catering, including pots and pans, crockery and cutlery sufficient for your party size. Toilets are fully flushing high specification chemical toilets and showers are fed by the boat's hot water tank. Some boats even have additions such as microwave oven, settees, multi-fuel stoves and dressing tables. You'll find out exactly what's included in each boat on the detailed layout pages.  Different stern types are available: semi-traditional; and cruiser – the stern of a cruiser is usually larger and has more open space. Access is easier and there is space for five crew members as well as the steerer. A semi-traditional stern has a larger area for the rear deck protected by solid sides. It offers less weather protection for the steerer but several people can usually sit on the lockers in the deck space.
Electrical Appliances
Unlike at home, there is a limit to the power that is available on a boat. Anglo Welsh boats have a device called an "Inverter", which converts the power from the onboard batteries into a 240-volt supply.
Power is measured in watts. For example, a standard household light bulb uses 60 watts and a kettle can be as much as 3000 watts.
The inverters have a power limitation of 1000 watts, which excludes many domestic electrical appliances. Every domestic electrical appliance has a label on it indicating its power consumption, so, anything above 1000 watts is not permitted. Usually, the following are more than 1000 watts and therefore are not permitted: Kettles; irons; hairdryers; vacuum cleaners; any form of heater.
Usually, the following items are less than 1000 watts and therefore can be permitted: Cool-boxes; hair straighteners; curling tongs; blenders; phone and computer chargers.
The golden rules
If the appliance is above 1000 watts then don't bring it onto the boat.
No electrical appliance should be left plugged in unattended.
Only use one appliance at a time.
Wherever possible, run the engine whilst using the appliance so that you are charging the batteries.
Finally, remember that it's impossible to guarantee that a battery powered supply system will be able to provide a constant supply of power to any electrical device, including and importantly, medical appliances.
This is because the batteries are charged when the engine is running; as soon as the engine is turned off, then the electrics will start to run the battery down quite quickly.
If you need to bring an electrical medical appliance with you on holiday, talk to us first.
What's included
Bottled gas is included in your hire charge and there will be ample onboard to see you through your holiday. All bedding (duvets plus covers and sheets); towels and tea towels are provided and all fixed beds are made up prior to arrival. For dinette seating, which converts into beds, bedding is provided for when you are ready to make up the bed.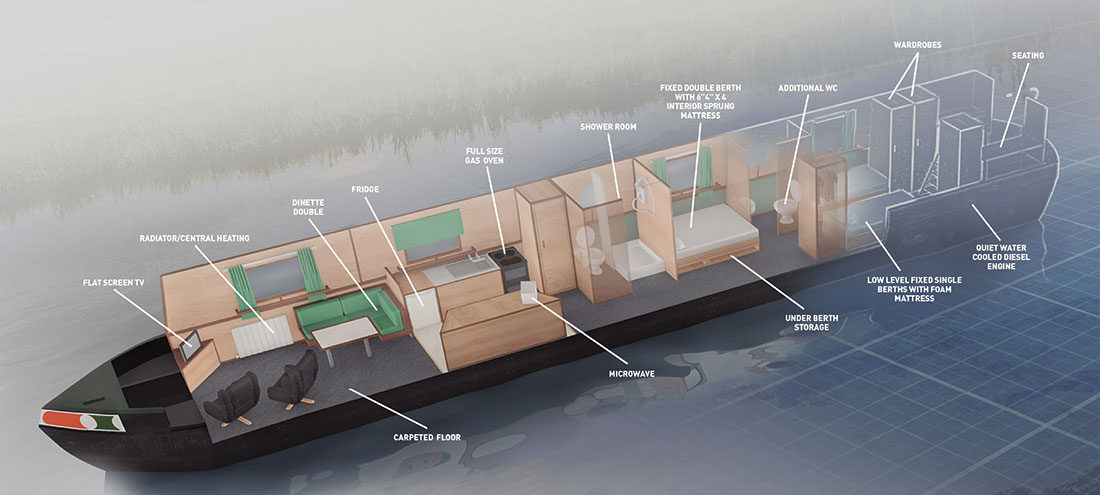 Choosing the right boat
The layout above gives you an idea of what to expect from your floating holiday home. All boats are unique, so once you have selected your starting base, take a look at our range of boat interiors and layouts to see what works best for you. If you are unsure of anything, please call our booking team for a 'phone walk-round' of the boat. We're as flexible with our layouts as we are with everything else, so we're sure we'll be able to come up with something that's perfect for you and your family and friends.